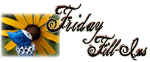 1. The salad I had for lunch today had an extra secret ingredient; it was kalamata olives, a favorite!
2. I wish I could be at home, on the couch, looking through my window.
3. Right now, I need a serious pick-me-up.
4. Home is where I went Thursday night; it was where I watched The Office.
5. Why does slicing my finger on the Pampered Chef Mandolin hurt so much?
6. All I can think of is the pretty day outside and how I wish I could enjoy it more.
7. And as for the weekend, tonight I'm looking forward to not doing much, tomorrow my plans include no planned events and Sunday, I want to plan my week's meals! I tell you. This never seems to change week to week. I DO have a life. Really I do!! But I do relish the stress-free weekend, so I'm o.k. with this event repeating week after week most of the time. :-)